Reading
michelle chan's blog
made me wanna do a food review too. Went to Zanmai recently, and ordered lots of salmon dishes for the review, since she blogged about Unagi.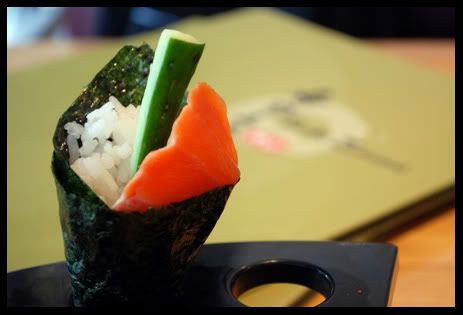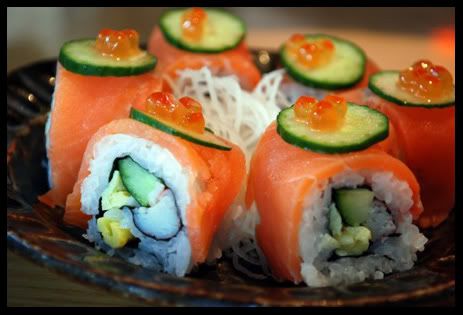 You know...i suck at writing reviews.. As you can see, the previous post on the macro capabilities of the D60 and N95 was like hanging and didnt have a conclusion.
This time, i'm lost on what to write about the salmon dishes i ordered. T_T
Ermmm.. all i can say is that, it tasted good, like how salmon should taste like.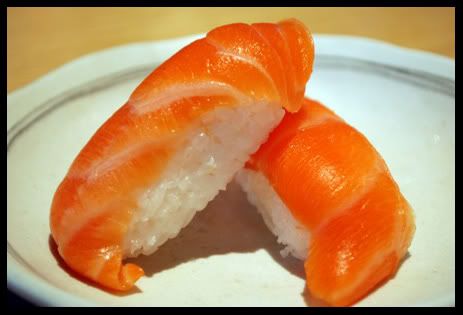 Okok.. let me try and write a bit more..
Zanmai is a great place to chill out and eat. Good food at a good price. No doubt. The salmon dishes i ordered was the Salmon Temaki, Coral Roll and the classic Salmon Nigri.
Well, salmon nigri and salmon temaki tasted like how it should taste like. Haha. Dont know how to explain how they taste like.
I can tell you how wasabi tastes like though.. Wasabi is The Green Stuff, the stuff everyone craves for, the stuff which inspires you to go the distance, recommended to be consumed in large spoonfuls for that exhilarating burst of flavours
.
.
.
.
.
.
Just kidding~~
Wah.. if take a huge spoonful of wasabi ar.. it's like:
God bless ;)