In the exam hall. Paper is 3 hours long. 4 questions. Each 25 marks. 20 minutes left. First 3 questions were horrible. Last question untouched. What would you do?

Option 1:
Option 2:
Try to come up with ingenious ideas of making the paper disappear after they collected it, then pray that they will award you with bonus marks for losing your paper.
Option 3:
Apply every exam technique taught by lecturers and do not stop writing till time is up, no matter how bleak the situation is.
Option 1 sounds easy. XD
***
Went to swensens recently after a super long day in class. Taking pictures of food with a 18-200mm lens is hard. Focus point too far. The food has to be far away for me to focus..
And lets do a simple tag. Tagged by
michelle
.
1. Take a picture of yourself right now.
2. Don't change your clothes or fix your hair.
3. Post that picture with NO editing.
4. Post these instruction with your picture.
5. Tag 5 people to do this.
Here is a small pic of me:

.
.
.
.
.
.
.
.
.
.
.
.
.
.
.
.
.

Ok laaaa.. I know you want a bigger pic of me.. Nah: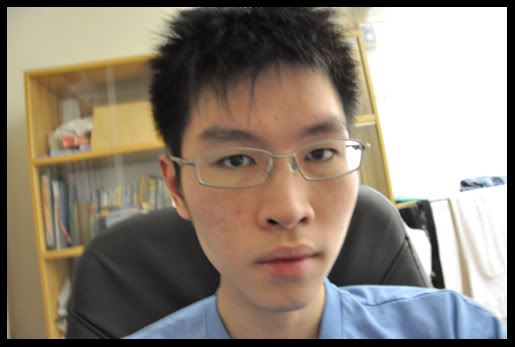 Aih..pic a bit blur.. I dunno how some people can take pictures of themselves with a DSLR. Pro.