Because of sunday's crappy discovery, for days, I've been ripping out my hair, throwing tantrums, having sleepless nights, squeezing orange juice into my eyes to distract me from the depression..

Now I'm bald and my eyes are as red as red. Just kidding~

Actually, I didn't rip my head hair, but I plucked every single hair from my legs. Legs now ultra shiny and can see own reflection. Now I'm being lame. haha.

Chinese New Year 2009 was ok. Normal la..


Went back to Ipoh and Sungai Siput for the new year. Aih.. I think I'm too much of a city person. The lifestyle in Ipoh is just.... too.... slow.... Even Mcd Drive-through took about 15 minutes to prepare my order. And I was the only customer.
I'm not saying Ipoh is a bad place. The lifestyle doesn't suit me. The mornings in Ipoh are always cool and fresh with birds chirping like there is no tomorrow, whereas here in KL, we wake up to the haze and massive jam.
Visited my tax lecturer with some friends in Klang after returning from Perak.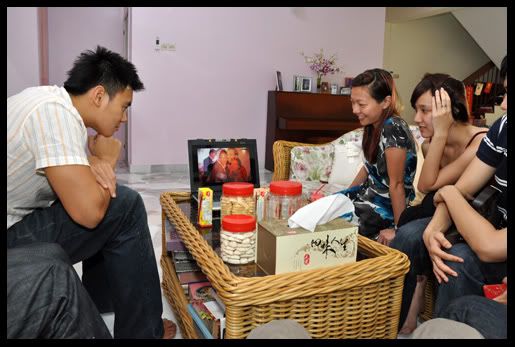 Her wedding was a couple of weeks back, and she looks so happy :)
And her sister in-law's dogs are so adorable. Huge golden dogs with giant tongues bigger than your palm.
Too bad we couldn't go to Camerons for a photoshoot, but we went to Putrajaya (again) instead. More photos in the next post~~ ;)
And I'm not going to Krabi T_T. Nvm la. next time..