I graduated with first class honours Bachelor Degree in Stoning yesterday. Thought of going for Master's but.. decided to stop stoning.

The topics were so dry.. can feel the whole class was just not concentrating at all.

Until,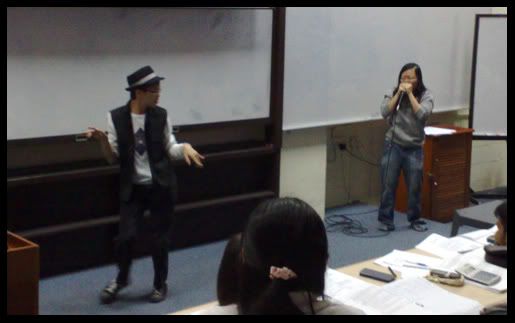 Our lecturer suddenly said "ok class, we have some entertainment"
A beatboxer and a "dancer" went up stage and performed. haha.
The beatboxer was a girl..so cool rite. Until the guy started dancing.... =.="
All he did was just spinning around and waving his hand.. lol.
But, they were sporting enough to entertain our stoning minds. Good job~
Photo taken with N95, quality dropped significantly once I used the digital zoom. Hmmm..
A very short post today, mind still stoning laaaa.. aiyoo.. seriously, have you ever experienced this before? Stoning to the highest degree..