"Congratulations! You've got yourself two tickets for the Premiere Screening of Madagascar 2: Escape to Africa courtesy of Nuffnang and United International Pictures."

Saw this in my mail a few days back :))))

Yay!! My first nuffnang outing and first premiere screening. Double kill~~ :)

Wondering how I got those tickets? See the sidebar, the top most text. Had to post that text, and if the nuffnang people see it, I'll get the tics.

Wondering who I brought along with me to the movie? Haha.. an ultra chun chic, hotter than Hannah Tan, Dawn Yang, and all those Taylors girls I always see when I eat at Asia Cafe (Sunway also got lots of chics).

Wondering who is that oh-so-lucky-girl-who-gets-to-watch-movie-with-zhao? If you're that desperate to know who is that person, click on the 17th blog link at the sidebar.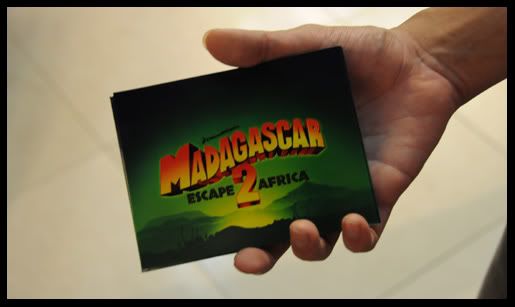 Surprised though, that the majority of the bloggers who turned up for the screening are the older looking people. I was expecting a younger lot, but cheers to all the bloggers :)
Saw a friend of a friend, who is doing an internship with nuffnang.
Saw another friend of a friend, who didn't see me.
Want me to spoil the movie for you guys? Ok..here is my review... just kidding~
Don't worry la.. won't spoil it. But you should really check it out.
And to me, the stars of the movie is not the lion or the zebra or the giraffe nor the hippo, but the super slick:
Thanks nuffnang and United International Pictures.