Was in Nottingham Malaysia, and my friend has Red Alert 3 in his com. He invited me to check out the game in his girlfriend's room (his com is in the gf room).. and WHOA~~!!

Like hotel room leh.. haha.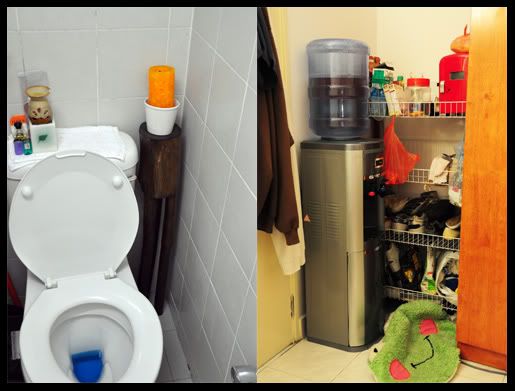 The toilet has scented candles!


The bedroom has a water dispenser!


Has a mini mini minibar


Windows are tinted


Curtains are personally selected


Room lighting was changed from the white light to the yellow light


Has a room carpet with big animal soft toy for deco


Has a wall clock with some thermometer function


Below are not relevant to the ultimate room


But I just want to make the list longer


The wardrobe is packed with clothes (enough clothes for 5 families)


She has different shoes for everyday for 2 weeks


Seriously.. the room is uber cool. It's just a hostel room.. big enough for only 1 person.. but she changed the room 360 degrees. They even thought of installing a plasma tv in the toilet.......
And... Red Alert 3 is nice~ :)