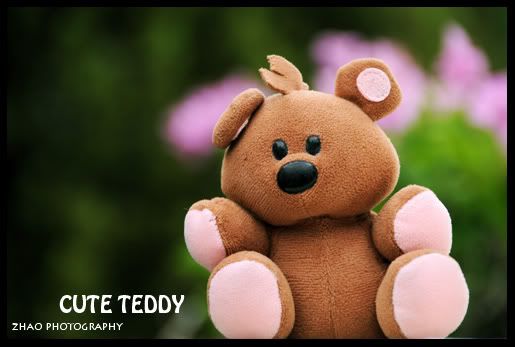 Had a mini photoshoot session with Pooky just now. I lost all the previously taken photos of Pooky (such as the original copy of the header pic) when i reformatted my com T_T
The previous photoshoot of Pooky was posted long time ago. Lazy to find the link XD
And yes, the teddy's name is Pooky, as in Garfield's bear Pooky. And yes again, if not mistaken, it sounds like a chinese bad word (not sure of the meaning cuz I'm a banana).
Everyone would be,
"eeeeeee..the bear so cute laaa"
*turns the bear around to see the label*
"hahahaahahaha.. the bear is pooky.. hahahahaha"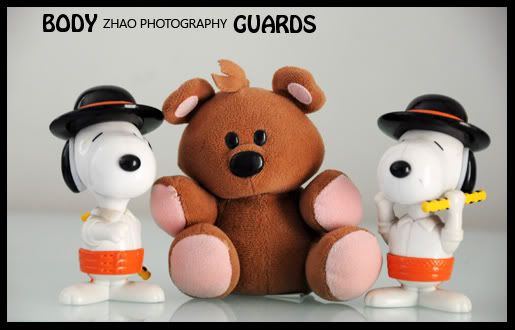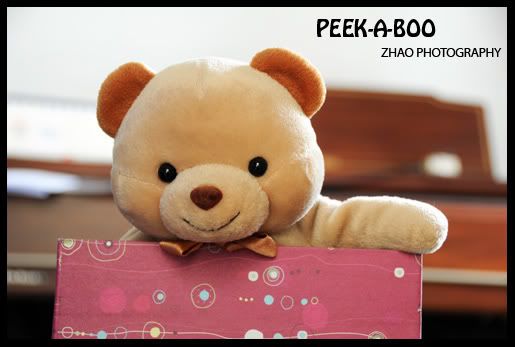 The last bear is an old bear my sister found in the house. Quite old leh the bear.. about 10years old di..
Asked my sister to take out her soft toys so that can pose with Pooky. Hmmmm.. all the soft toys not cute enough. haha.
She never buys them. Apparently guys who are/were after her gave her the toys..
Aih.. the guys.. buy so expensive toys (almost all branded, such as hallmark brand thingy, Russ or something like that).
Haha.. 2 years ago, I saw Pooky in Memory Lane:
"wah... cute nya.. plus it's garfield's bear. Okok..must get it"
*searched for my friend in the shop and asked HER*
"eh..pui yeen.. that bear very cute leh.. buy for me laa. Only Rm9.90"
*she gave me that swt look*
"serious ar.. aiya..I no money laa. Next time la."
*my heart went..... T_T*
"haih.. ok la. I buy it myself. Pui yeen, I won't send you home XD"
No la.. I did send her home, and bought the bear myself.
Now.. since the bear is so cute, and everyone is asking me for the bear, I'm only selling it for RM2500.